TRAINING : BUSINESS CULTURE
Zusammenarbeit und Kommunikation mit japanischen Kollegen und Partnern
Lokale Mitarbeiter/innen, die mit japanischen Kollegen oder Geschäftspartnern zusammenarbeiten.
Es gibt keine besonderen Voraussetzungen für die Teilnahme.
Dieses Training ist sowohl zum Onboarding neuer Mitarbeiter als auch für Teilnehmer geeignet, die bereits Arbeitserfahrung mit Japan besitzen.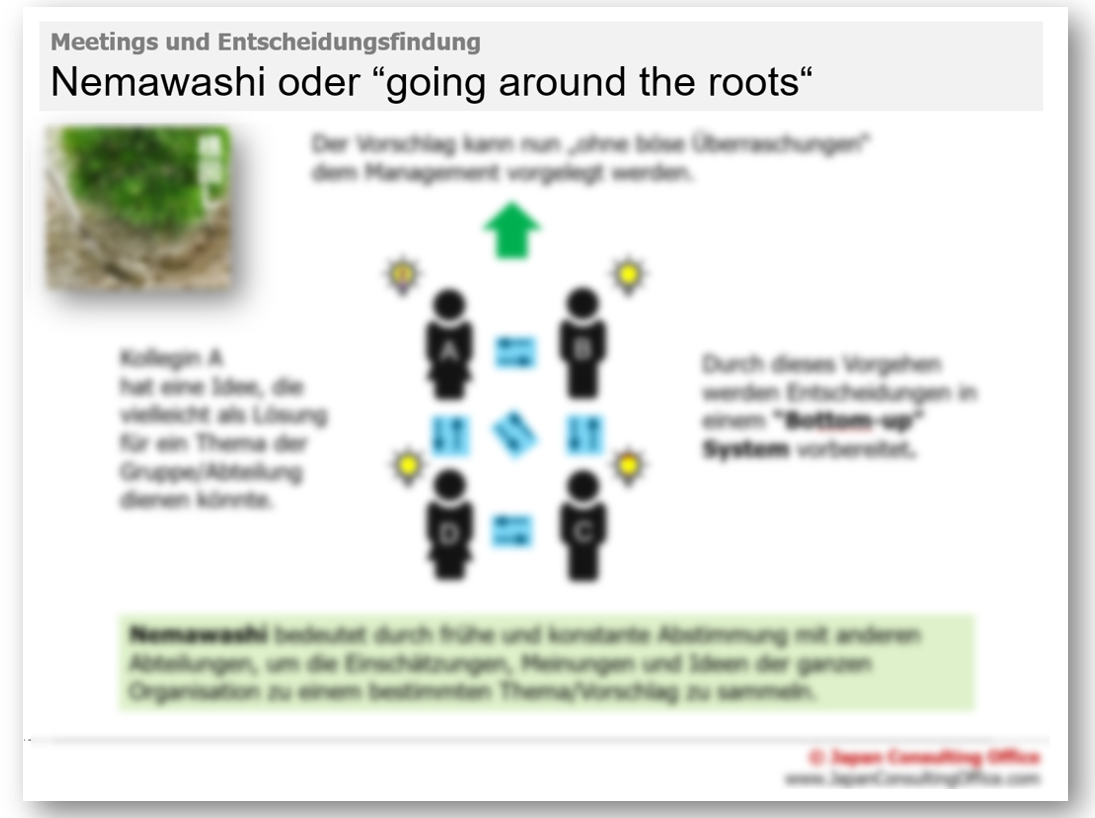 In diesem für Europäer konzipierten Programm, lernen Sie alles, was Sie brauchen, um Ihre japanischen Kollegen besser zu verstehen und einzuschätzen, um dadurch effizienter kommunizieren und arbeiten zu können.
Unter anderem geht es um:
Der Trainer wird konkrete Beispiele und eigene Erlebnisse aus Japan und japanischen Unternehmen vor Ort anführen, um das Besprochene zu illustrieren.
Dieses Training wird im Blended Learning Format wie folgt angeboten:

Die Teilnehmerzahl ist auf 10 Personen begrenzt, um ausreichend Zeit für die Klärung individueller Themen zu garantieren.
"I am benefiting everyday from your excellent one-day-training on Japanese culture. Today again, during a meeting with our Japanese colleagues, I experienced behaviors which you described in your training. It is easier to understand and to anticipate with the very good advice you gave us."
Participant to the seminar, Japanese manufacturing company

Bitte melden Sie sich mindestens eine Woche im Voraus an. Bitte beachten Sie auch die  JCO's cancellation Policy. Um ein möglichst effektives Training zu gewährleisten, ist die Teilnehmerzahl pro Training begrenzt.