TRAINING : BUSINESS CULTURE
Working in Multicultural Teams (gemischte Schulung)
This program will help Japanese and non-Japanese colleagues to better work together by understanding and adapting to cultural differences. We spend the morning in two separate groups, Japanese and non-Japanese, to allow each group to express their opinions candidly amongst themselves, as well as to obtain a good understanding of the subject in their own language. In the afternoon, the groups are brought together to apply what they have learned
Japanese and non-Japanese employees. There is no prerequisite for attending this program.
Nevertheless, we recommend that participants have at least six months of work experience in the organization before attending the program.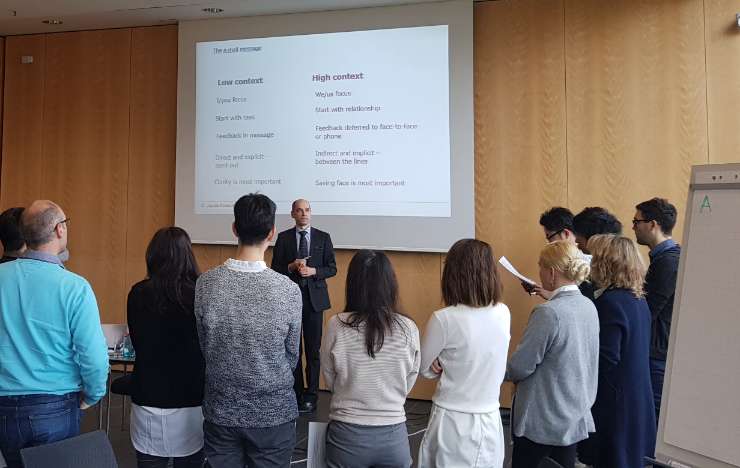 You will learn to identify and reconcile cultural differences at work, because you will have a strong understanding of both cultures and how they play out in the workplace. You will be better able to communicate across cultures and use new skills to work more efficiently.
The program follows the methodology Know Yourself, Know Them, Be Yourself.
In Know Yourself, we introduce the impacts of culture in international business and examine our own cultural preferences and assumptions.
In Know Them, we acquire a deeper understanding of the other culture. We learn the facts behind the culture, including the influence of history, geography, religion, and education. We look at differences in the workplace (among others communication style, meetings, decision-making) and explore how they can be overcome.
In Be Yourself, we come together as one group and learn how to adapt and work better together. Participants work in mixed groups on case studies or team building exercises and determine their own best practices.
The trainers will illustrate the points discussed with examples from their own experience.
"Training was very helpful in every way to understand how Japanese and non-Japanese colleagues work together. Even after 21 years in this company… recommended for all employees."
Participant, NGK