Non-Japanese employees working with Japanese colleagues or clients. There is no prerequisite for attending this program.
It is both suitable for the onboarding of new employees as well as training for people with work experience with Japan.
The group size is limited to 8-10 participants to ensure maximum interactivity for each participant.
Special campaign:
To show you the benefits of this training session, we are happy to invite one member of your HR team free of charge!
Please book your free seat here: elearning@japanconsultingoffice.com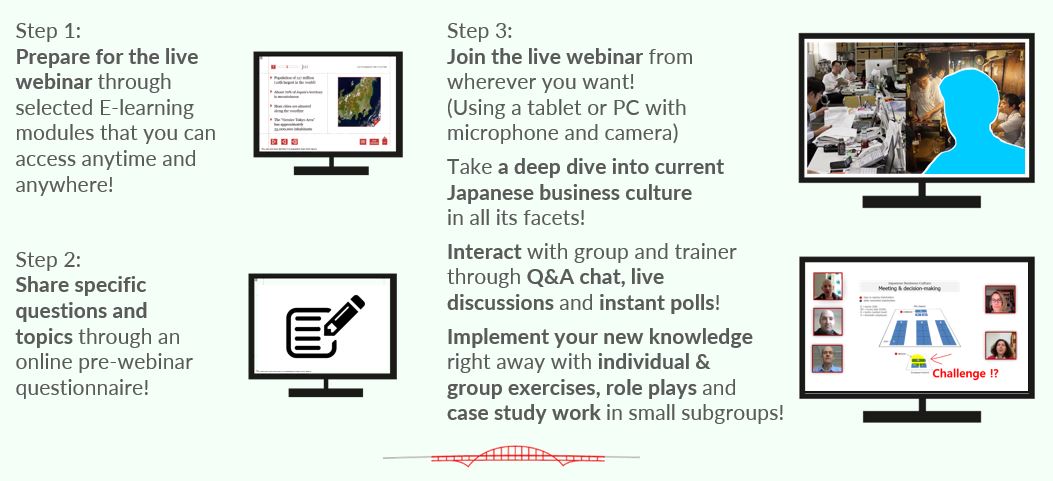 Everything you need to know to better understand your Japanese colleagues and adapt in order to work and communicate more efficiently. You will gain a deeper understanding of key concepts and work practices and how they differ from yours. You will also become more familiar with business protocol.Content includes:
The trainer will illustrate the points discussed with examples from his or her own experience working in Japan and abroad.
"I am benefiting everyday from your excellent one-day-training on Japanese culture. Today again, during a meeting with our Japanese colleagues, I experienced behaviors which you described in your training. It is easier to understand and to anticipate with the very good advice you gave us."
Participant to the seminar, Japanese manufacturing company

Please register at least one week in advance and please note JCO's cancellation policy.JCO cancellation policy
To enhance the quality of the training, the number of participants will be limited!